Sand
Techniseal Sealers and Cleaners
No project is complete without long lasting protection for the surface and the joints. The advanced mix in Techniseal sealers also perform well in extreme conditions. As a result, Polymeric Sand resists erosion caused by sweeping, wind, rain, and pressure washing. Furthermore, it inhibits weed growth and resists insect infestation, leaving pavers clean at all times. After developing the first polymeric sand for paver joints in 1998, Techniseal has continued increase formula efficiency, including the most advanced in the world: RG+ and HP2.
Techniseal has developed a complete paver-care system to ensure the timeless beauty of gracious outdoor living spaces. Nearly all Techniseal Protectors are formulated without strong or flammable solvents, and emit very low VOC levels in the atmosphere. While solvents still have their place, Techniseal is leading the way with environmentally-friendly, water-based products in every aesthetic finish.
For more information Please click here:
Polymeric Sand
A high-tech mix of graded sand and binder, specially formulated for the filling of joints when installing pavers or slabs.
---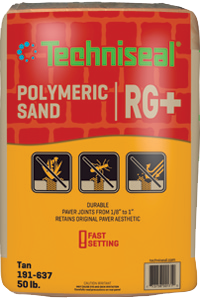 RG+ Techniseal Polymeric Sand
Inhibits weed growth
Deters ants and other insects
Eliminates joint erosion – water, frost heaving, wind, power washing, etc.
Fast-setting, water resistant 90 minutes after installation
Stabilizes paver installations - follows movement
Issued from the latest generation of polymers, Techniseal Polymeric RG+ becomes water resistant quickly after activation. Designed to make joint stabilization easier than ever, RG+ Polymeric Jointing Sand combines graded sand (ASTM C-144) and binder, specially formulated for the filling of narrow or wide joints when installing pavers, slabs or natural stones, or when replacing existing joints. It suits surfaces exposed to light vehicular traffic, such as small commercial parking lots, driveways, terraces, backyards, garden paths, access roads, etc. Easy to use, RG+ uses dry application; it starts to set a few minutes after wetting, quickly becoming resistant to erosion due to water (rain, splashes, sprinklers, etc.). Once dry and polymerized, Techniseal® RG+ polymeric sand also resists insect invasion and inhibits weed growth. Remaining flexible, it follows the movements of pavers or slabs.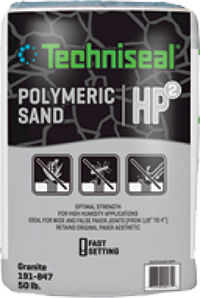 HP2 Techniseal Polymeric Sand

TECHNISEAL® HP2 POLYMERIC SAND is a state-of-the-art mix of graded sand (ASTM-C144) and binder that flows smoothly down joints for a fast and effective installation of pavers with wide and false joints. It is also recommended for areas exposed to heavy traffic and high-humidity1 . Easy to use, HP2 POLYMERIC SAND starts to set only a few minutes after being activated with water, and quickly becomes resistant to water erosion (rain, splashes, sprinklers, etc.). TECHNISEAL® HP2 POLYMERIC SAND offers great resistance to weed growth, insect invasion, and erosion.